20g Combo Turnout with Belly Cover
Regular price
£90.00 GBP
Sale price
£90.00 GBP
Unit price
per
Sale
Sold out
Share
MudRugs Light, our 'no fill feel' 20g design is packed full of innovative features, promoting comfort and convenience for you and your horse during milder weather.
Unique to MudRugs, we've engineered a flexible belly cover, fastened inside the rug to prevent water running in, even during the heaviest of rain. All of our turnout rugs benefit from a durable 1200 denier waterproof and breathable outer. This, combined with our elasticated poll, signature reflective shoulders and extended tail darts ensures maximum protection for your horse. 
Our 20g option is the first of it's kind, forming an ultra-fine buffer between the inner and outer lining. It's this all important layer that ensures superior performance in wet weather when compared to many traditional 0g rugs. It should therefore be expected that our 50g+ options will further outperform during prolonged or heavy rain. 

Below you'll find the full list of extensive rug features:
Choice of 20g belly cover or surcingles - BOTH included
Choice of leg straps or fillet string - BOTH included
1200 denier

 

microporous PU

 

waterproof and breathable outer
20g ultra-fine polyfill
Elasticated, adjustable and removable belly cover
Spare surcingles for traditional use
Elasticated poll for a close fit
Large reflective shoulder darts
Reflective tail flap
Large tail darts to restrict lifting in high winds
Surcingle fastenings with rubber washers for additional security
Soft nylon lining throughout to promote shine
Seamless at the base of the neck to reduce rubbing
Removable and adjustable leg straps
Velcro neck fastenings
Adjustable chest fastenings with D rings
Available in sizes 5'0 to 7'3
Sizing
Horse sizes; If your horse wears 6'0+ and is in between rug sizes, we recommend ordering the larger size of the two. 
Cob / Pony sizes; These are a generous deep fit and true to size in terms of length. 
With a double row of fastenings on both sides of the rug, the belly cover is adjustable to 3 levels - for optimum fit we recommend the elastic to be in light contact with your horses belly. 
Still unsure? Request our advice via sales@mudrugs.co.uk and expect a same a day response. Please be sure to check your junk mailbox or add us to safe senders. 
Rug Care
During regular use we recommend occasionally cleaning the inside of the rug at the chest, withers and along the mane. This is typically where grease builds up on the soft lining, restricting the hair from moving freely underneath. Wiping only with hot water, just once a month and allowing to dry can maintain comfort for your horse and reduce the chance of rubbing or hair loss.  
Jet washing, strong detergent and fabric conditioner can damage the rug's waterproofing and breathability. To prolong durability we recommend only a cool wash once a year, or a professional service. MudRugs should be hung to drip dry only.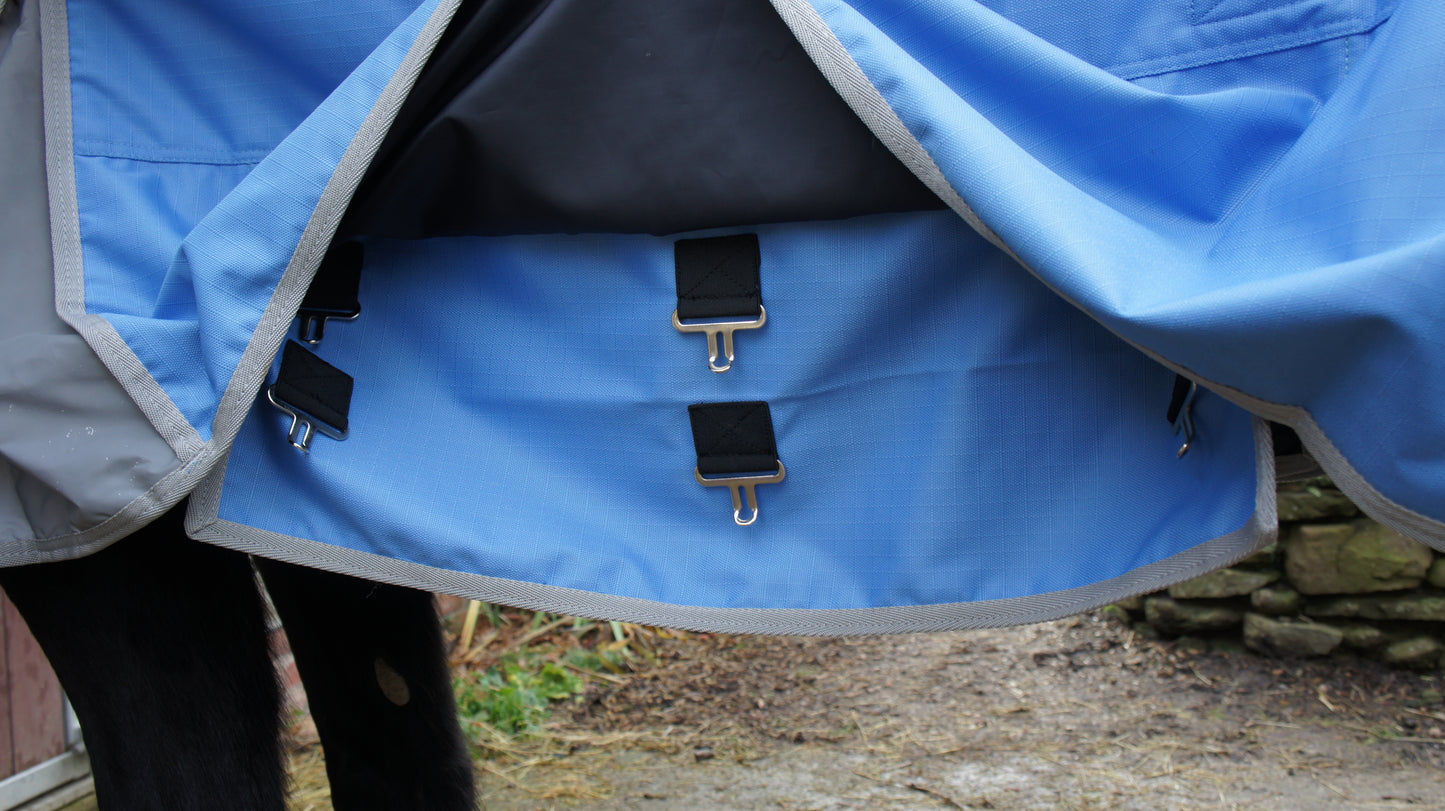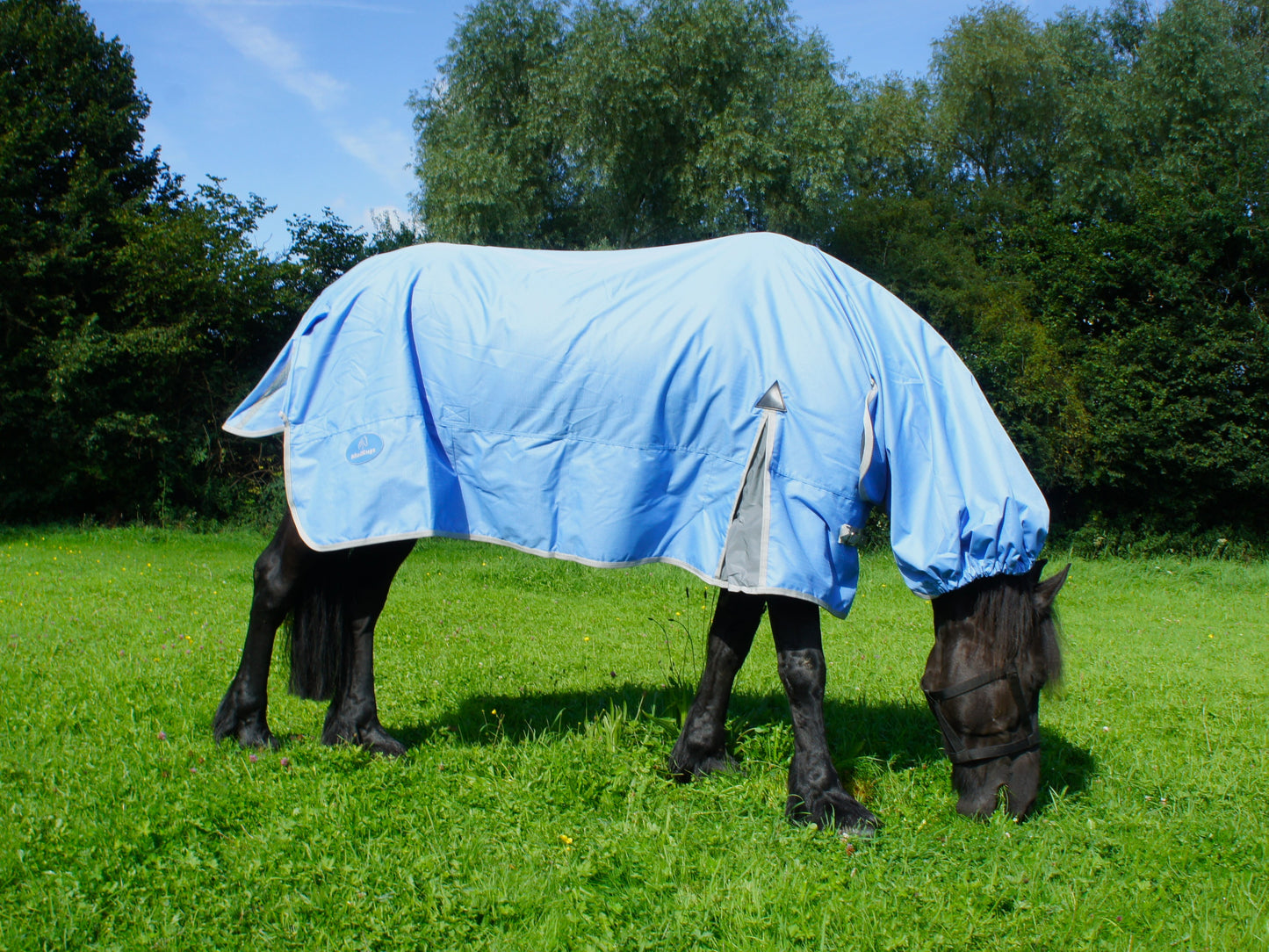 Fabulous rugs!
Great rugs, beautiful fit for big necked lusitano horse's quality rugs, well made and designed.
Very waterproof, even in the recent torrential downpours.
I will defiantly buy these again
Best rug we own
This rug has been perfect for the last couple of weeks, perfect fit on my 16.1 TB. She stayed completely dry and did not overheat. A very happy pony and mum. This 20g will be invaluable for us. I have a rug buying Addiction so I'm sure mudrugs will end up replacing her others over time. She has a reputation for trashing rugs, this one stayed in one as I think it just didn't bother her. She lives out 95% of the time.
Great Rug
20g fill makes all the difference - completely waterproof after 24hrs heavy rain! Highly recommend. Also mud prevention features work very well.
You must have read my mind, I've been thinking fora while I need a 20 /25 g rug 😊
Ideal rug for the spring
This 29g rug is ideal for this early spring weather the fit is really good. Love this rug 😊